CLASSES: Join the fun! Learn new tips and tricks that will make your
sewing experience successful and enjoyable.
Get individualized attention in our intimate classroom setting.
Hourly rates may apply.
PATTERNS are purchased separately.
Wholesale orders / PDF sales: Please send an email to deonn@quiltscapesqs.com
Purchases are processed by PayPal using secure servers.
Please note, you are not required to have a PayPal account to purchase.
After you Checkout, you will be transferred to PayPal's webste
to either log into an existing PayPal account,
or to continue to pay with a credit card
without having to sign up for a PayPal account.

We accept all major credit cards including Visa,
MasterCard, American Express and Discover.
~~~~~~~~~~~~~~~~~~~~~~~~~~~~~~~~~~~~~~~~~~~~~~~~~~~~~~~
Newest!! Isabella's Bonnets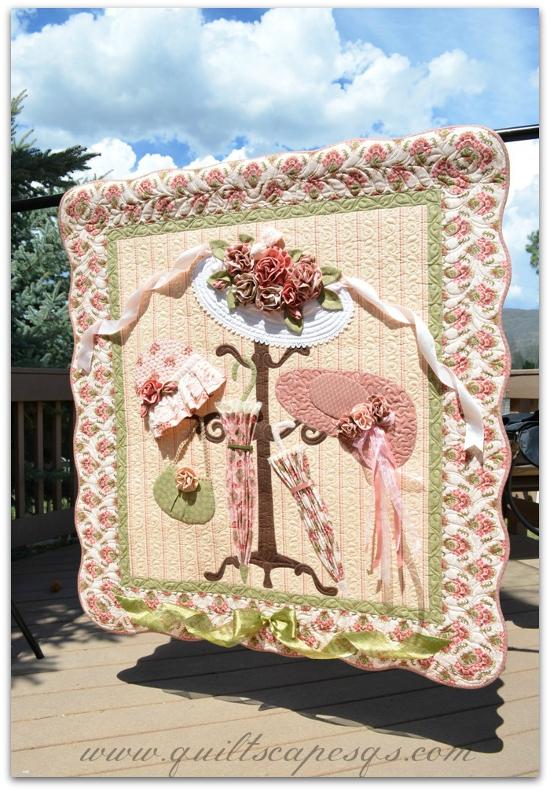 46" x 50"
Reminiscent of days gone by! Romance the past with this nostalgic wall hanging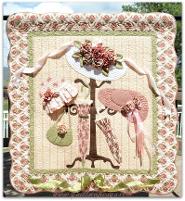 Pattern includes all instructions for construction, applique',
curve-edge binding lesson
and embellishment ideas.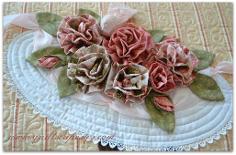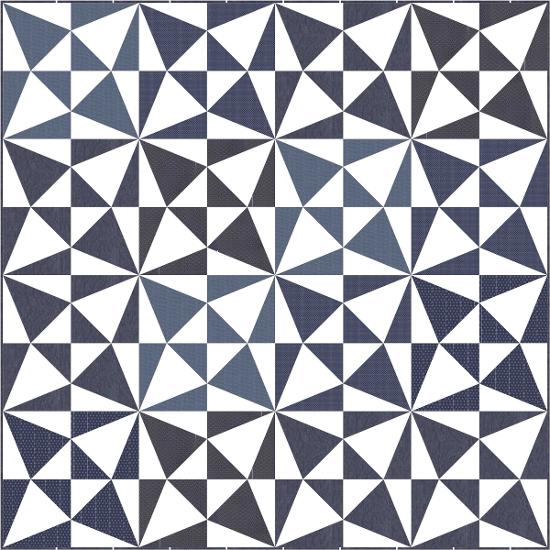 This dynamic quilt design creates dimension and movement using simple straight-seam construction.
A contrast in either color or value (light/dark) produces the best results.
Chose template- or paper-piecing to precisely construct the blocks.
Suitable for two colors, or bust your stash and go scrappy!
Pattern includes templates and instructions to create eight quilt sizes
ranging from table topper to king size.
Zircon Crystals
Quilt Pattern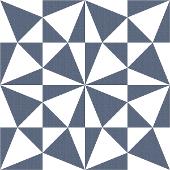 Best Seller! Carpenter's Star Quilt Pattern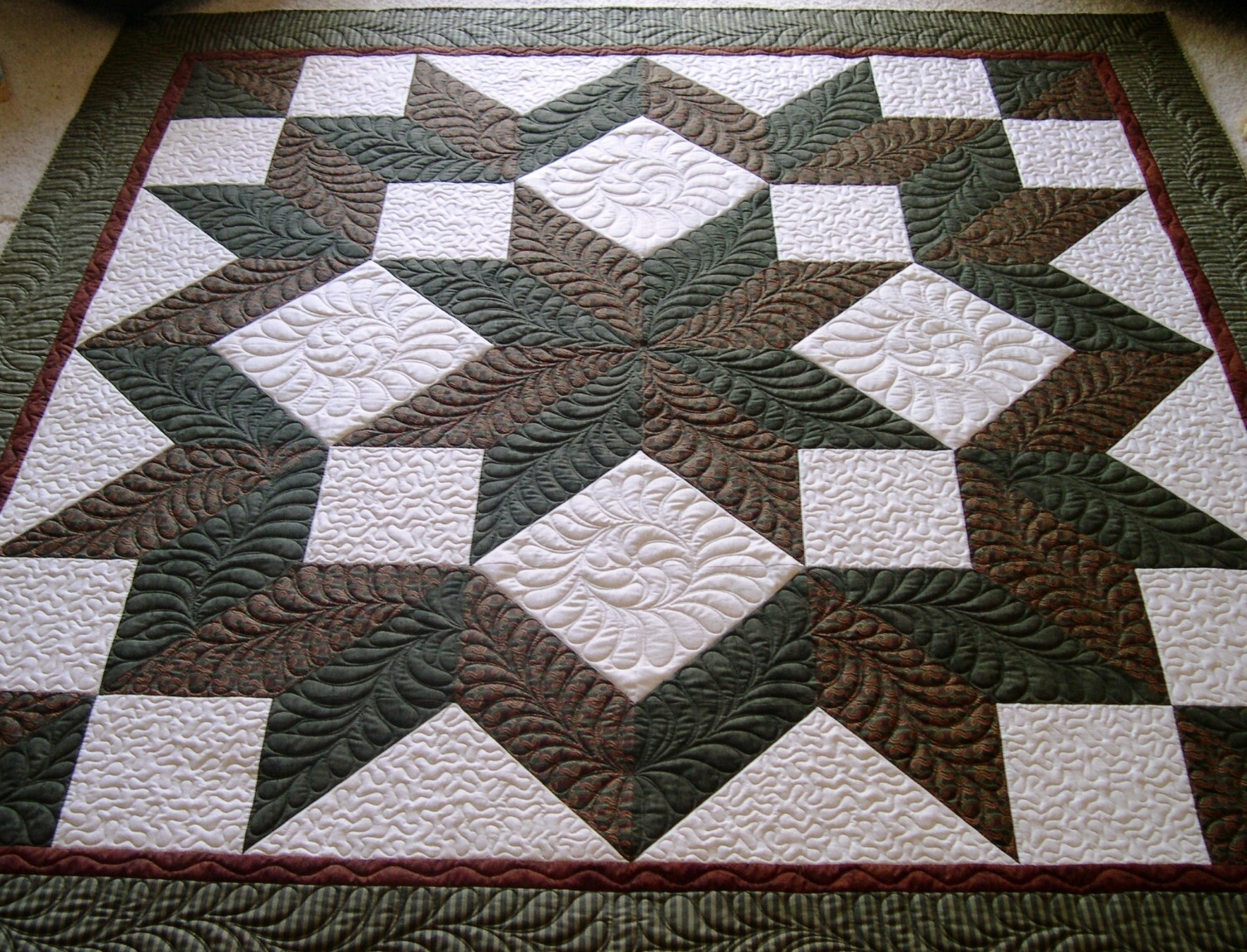 Pattern 88" x 88" Quilt/Comfortor

This stunning, simple quilt is made using all half-square triangle units!
Use two main colors, or make it with today's 10-inch pre-cut "layer cakes" for a great scrappy look. A perfect quilt for beginners.
Pattern includes instructions for precise mitered borders and binding lesson.
Carpenter's Star Slideshow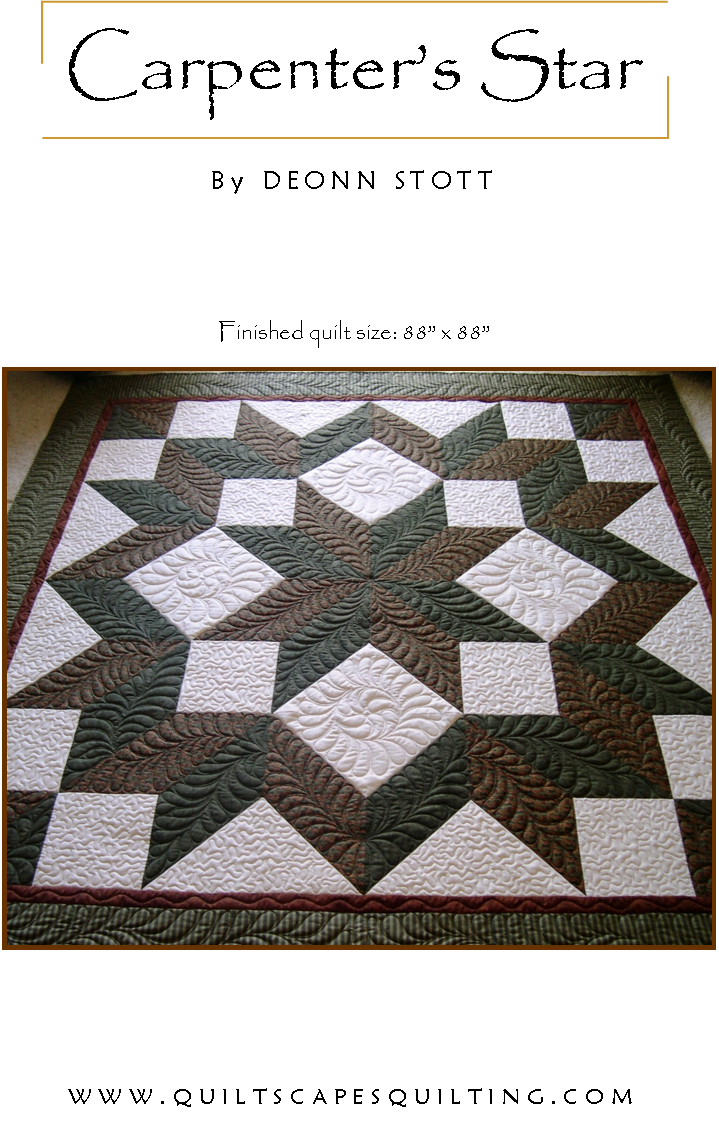 Bullseye Baby Quilt Pattern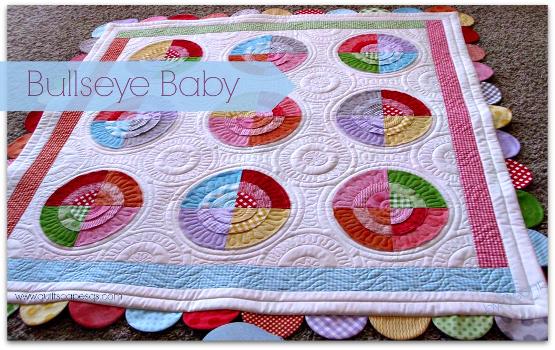 45" x 45" throw
Welcome baby with this easy-to-make colorful throw featuring raw-edge applique' and a quick scallop finish.
Bullseye Baby
Quilt Pattern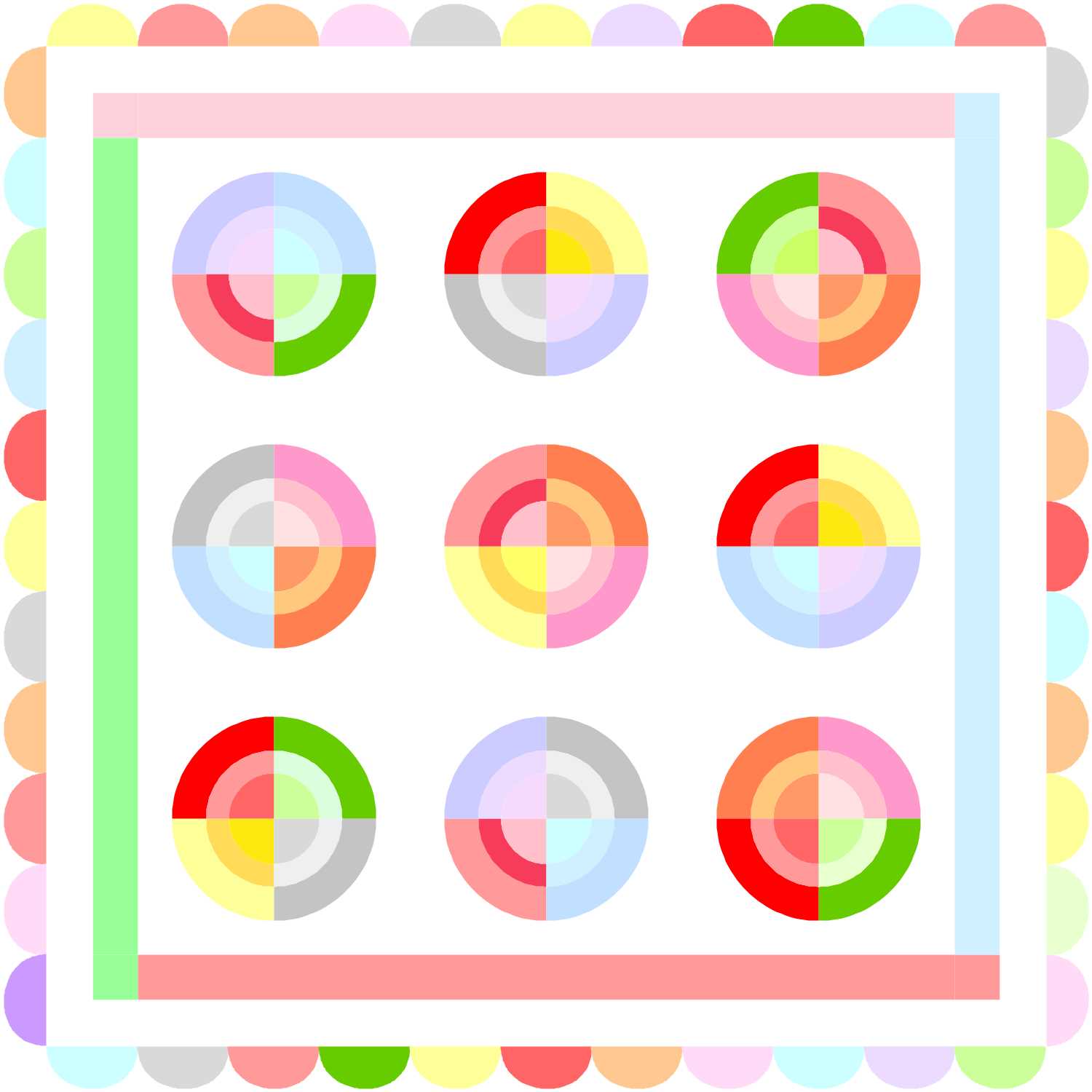 Tsunami (Giant "Storm at Sea")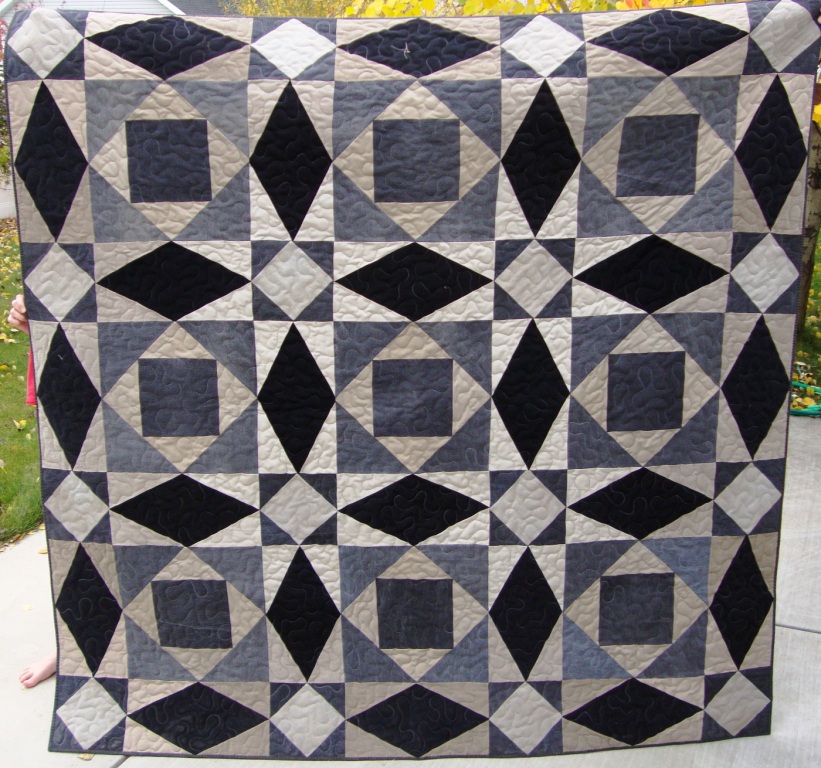 80" x 80" picnic quilt
This striking quilt gives the illusion of curves with straight-seam construction. Upcycle your old denims and khakis for the perfect picnic quilt!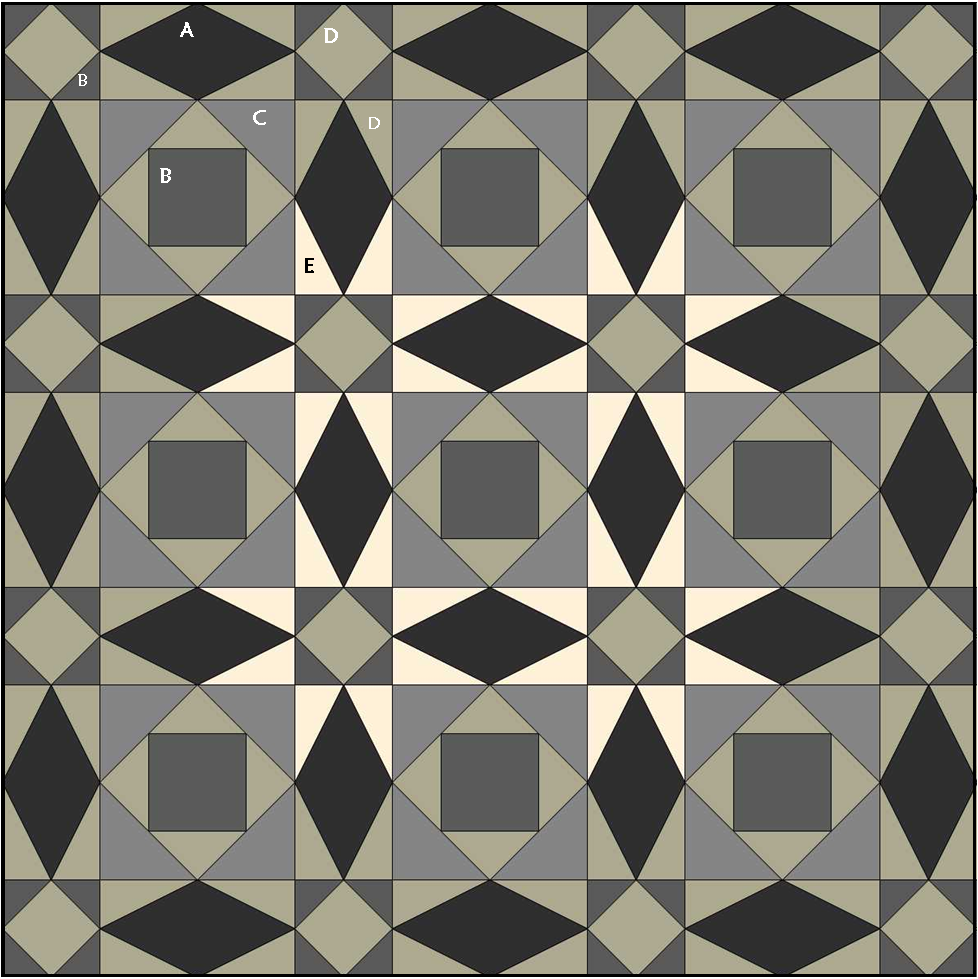 NEW!! Star Weave Tree Skirt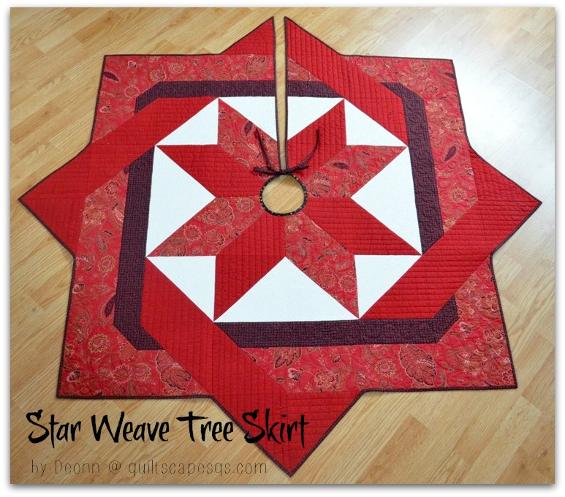 64" x 64" from tip to tip
This stunning tree skirt features half-square triangles for simple construction. Finish with or without binding
and enjoy this lovely tree skirt for years to come.
Star Weave
Tree Skirt
Pattern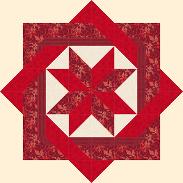 For the Holidays! Star Medallion Tree Skirt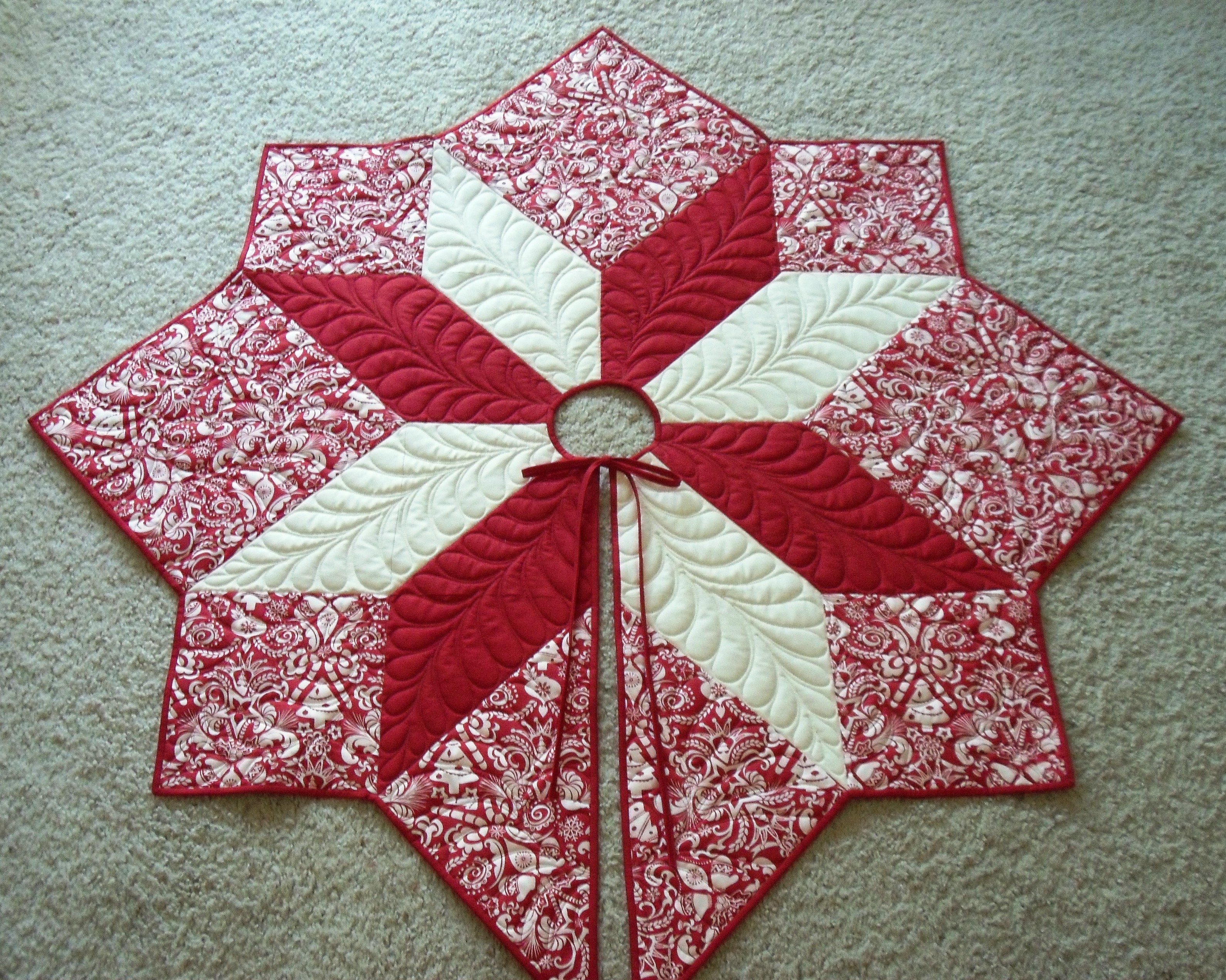 54" x 54" tree skirt
This beautiful quilted tree skirt will be a lasting addision
for your holiday decor.
Star Medallion
Tree Skirt
Pattern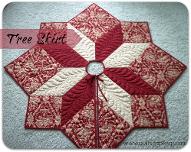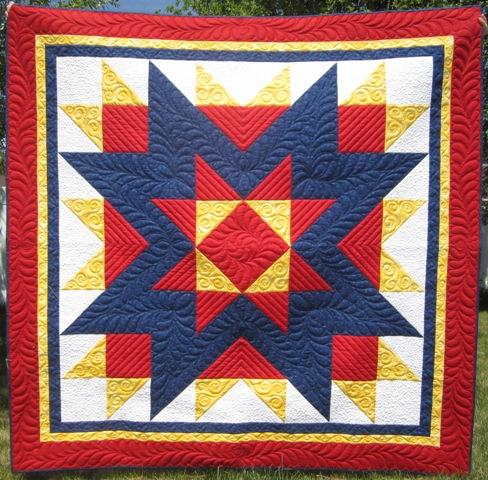 Table Topper, 22" x 22" Lap Quilt, 62" x 62" Bed-size, 9s" x 92"
This quilt was designed in honor of my son's military service,
perfect for your next patriotic celebration!
~ Pattern includes mitered border and binding lessons ~
A Soldier's Star
Quilt Pattern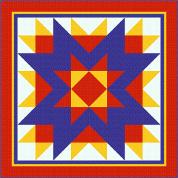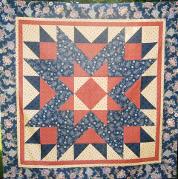 "Quilt School" Pieceful Beginnings ~ Quilting 101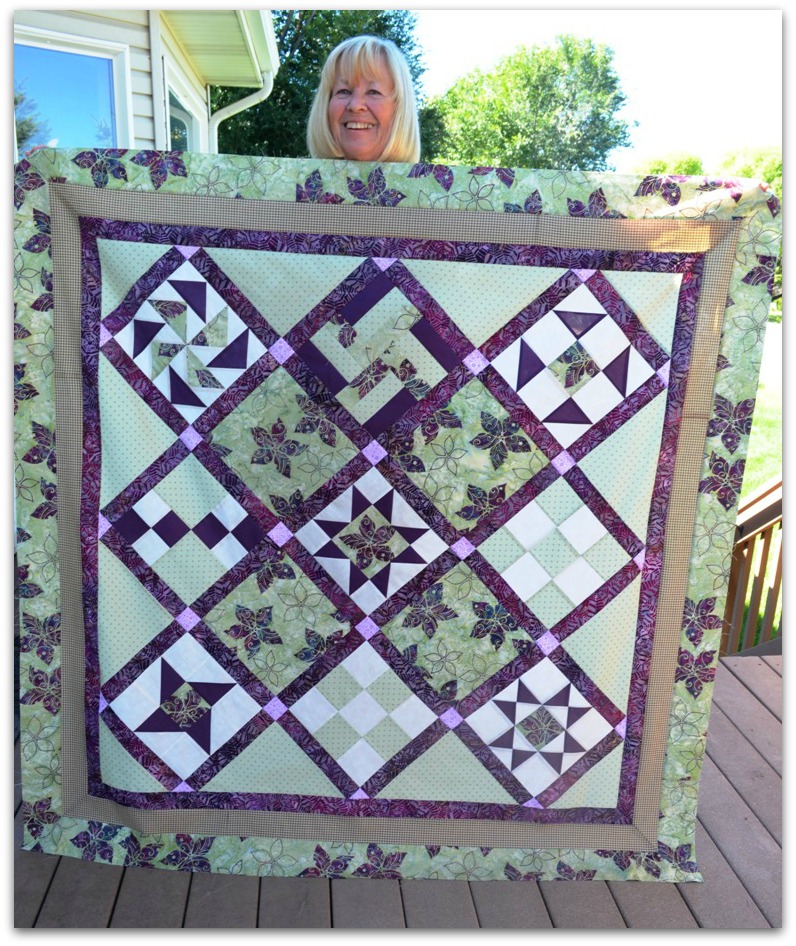 40" x 40" wall hanging
New to quilting? Want to improve your skills?
Perfect the basic elements of beautiful quiltmaking and learn quick tricks for speed-piecing as you construct basic "building blocks":
four-patch, rail fence, nine-patch,
half- and quarter-square triangles, flying geese.
Pattern includes instructions for "Pieceful Beginnings" wall hanging.

Quilt School Pattern
Lessons I - IV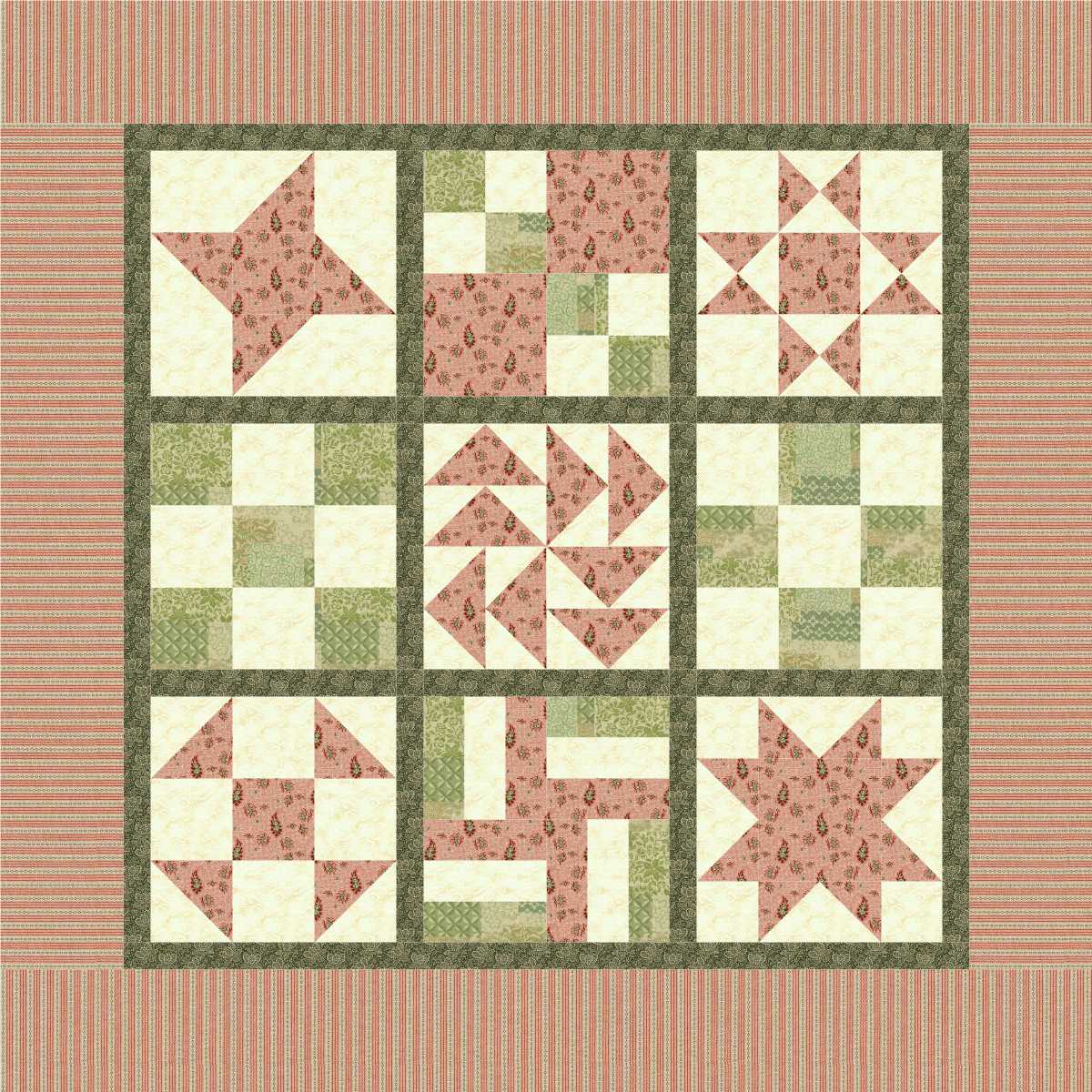 Lesson I - Squares
Lesson II - Triangles
Lesson III - Flying Geese
Lesson IV - Binding
Includes pattern for
"Pieceful Beginnings" Quilt
Sew BIG: Star Medallion ~ A Big Block Quilt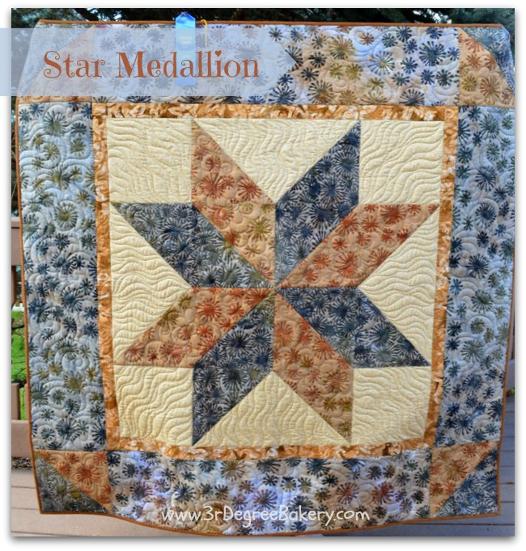 58" x 58" lap quilt
Make this yummy lap-size quilt in just a few hours using
large half-square triangle units - no Y-seams!
Great project for beginning quilters.
See article HERE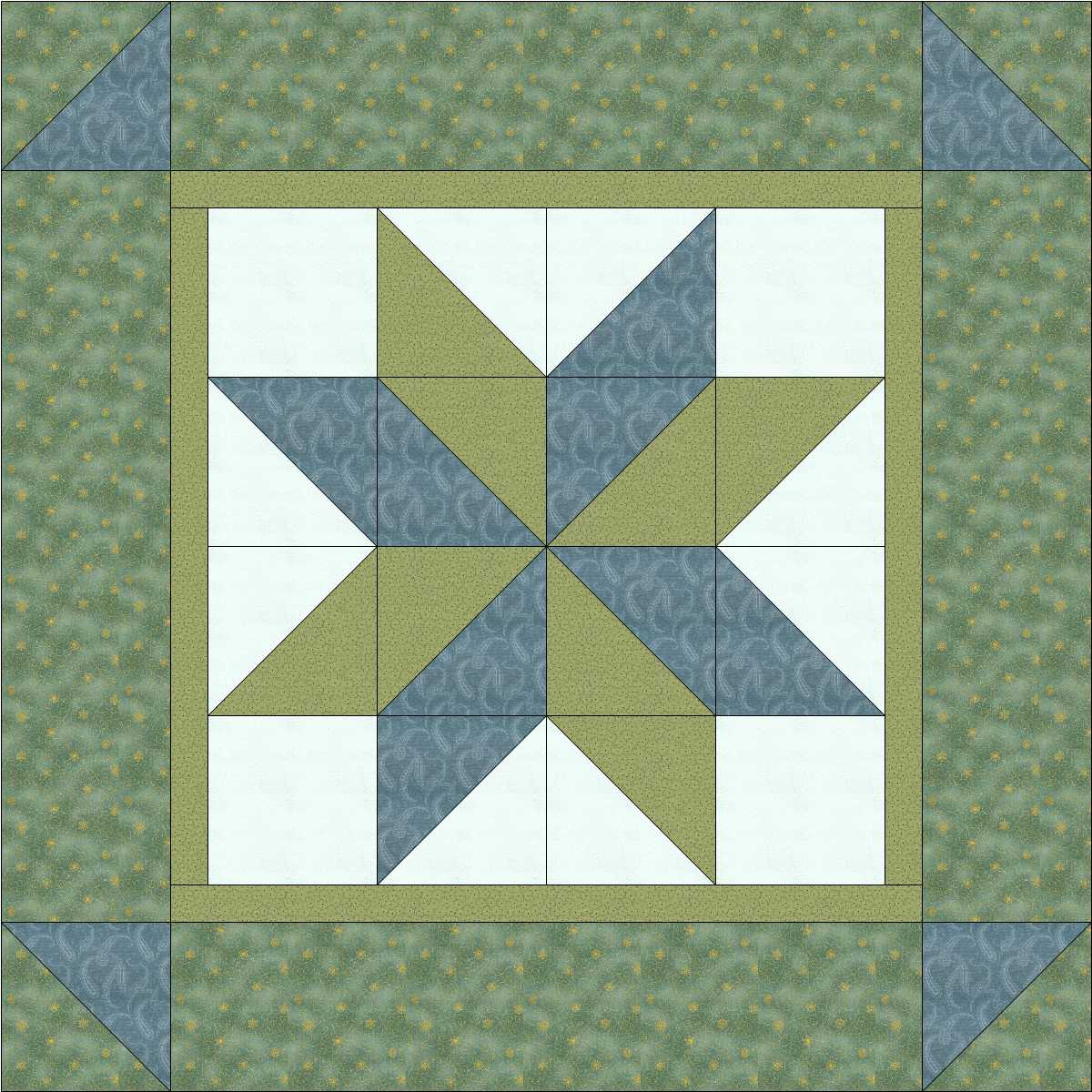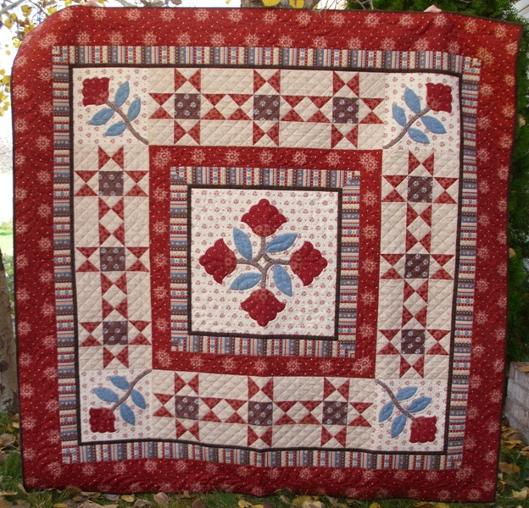 58" x 58" lap quilt or wall hanging
This design was inspired by great-grandma Vivienne,
who immigrated to America from Australia in the 1920's.

She lovesd the Wilford Peterson quote:
I champion the right to be myself.
Dare to be different and set my own pattern.
Live my life and follow my own star."
Pattern includees speed-piecing tips and instructions for easy pre-cut mitered borders plus a binding lesson.
Vivienne's Journey
Quilt Pattern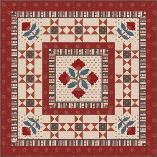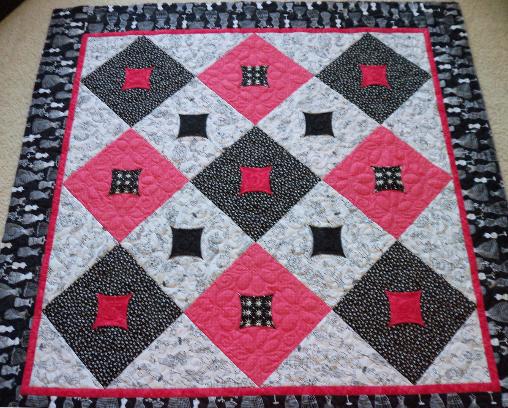 70" x 70" lap quilt
3-D Curves, 3-Seam blocks. Simple effort, stunning results!

Pattern includes instructions for 57" x 57" sports throw/layer-cake throw and 51" x 51" fat quarter throw;

twin and queen-size quilt instructions also included.

Throw Me a Curve
Quilt Pattern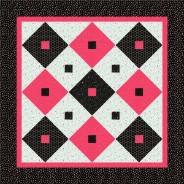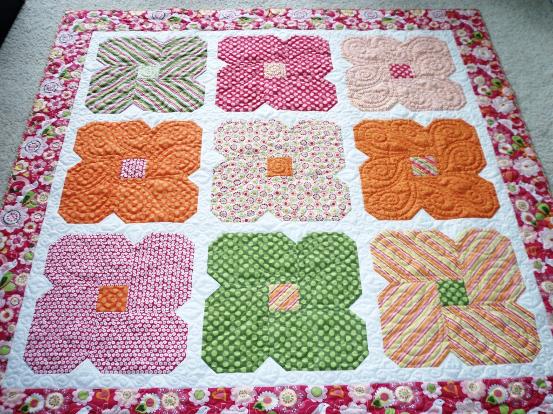 64" x 64" lap quilt
This fun, fresh quilt will blossom before your eyes
in no time at all. Fat-Quarter friendly.

Bloomin' Blossoms
Quilt Pattern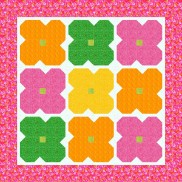 $9 / pattern
BONUS: table runner pattern
Bloomin' Blossoms
Quilt Pattern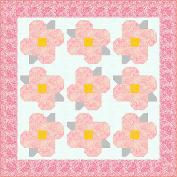 Simple Sadie meets Modern Millie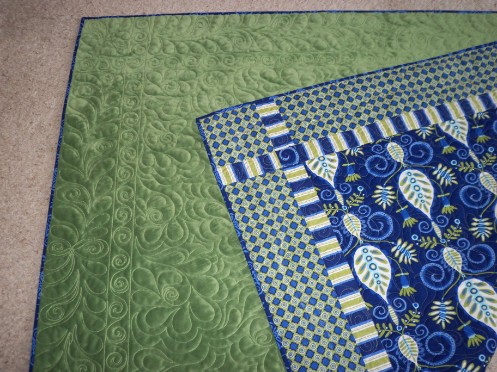 Simply Beautiful, Quick Crib or Lap-Size Quilts
Make a quilt as simply as possible with minimal fabric and time!
Use wider soft plush backing and just a little more fabric
for a modern look, feel and cuddliness.
Perfect for panels or large prints that are just too cute to cut!
Simple Sadie 43" x 53" Modern Millie 56" x 66"
Simple Sadie Meets Modern Millie
Quilt Pattern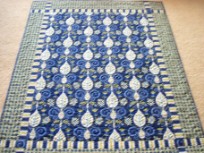 Instant Blocks! ~ Quilting 102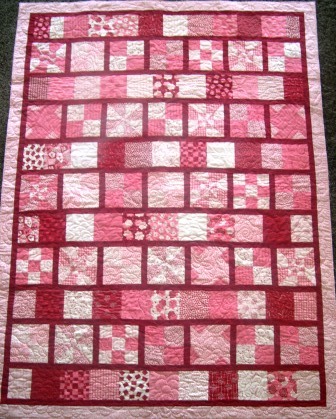 54" x 72" Lap Quilt or 42" x 52"
Wall Hanging
Purchase the companion
"Quilter's BIBLE"
for charts, formulas, sizing
Learn quick methods to speed-piece multiple quilt blocks in just minutes.
Each of the seven methods practiced in this pattern will produce multiple blocks/units at the same time. You will also learn some prize-winning tips for precision piecing. Class includes instructions to complete a wall hanging or full-size quilt.
A few strips, a few squares, a few stitches and voila! Instant blocks, instant success!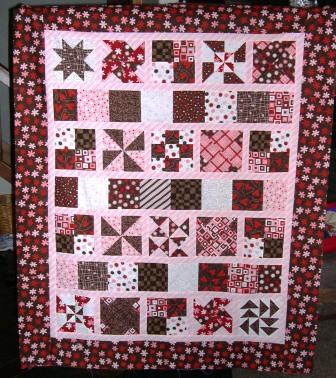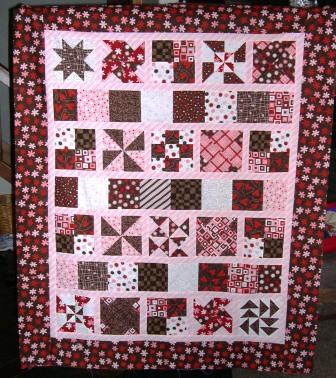 Includes pattern for
"Charming Instant Blocks"
Wall Hanging & Lap Quilt
Techno-Tag 2D Barcode Quilt featured in Quilt Trends 2012 Fall issue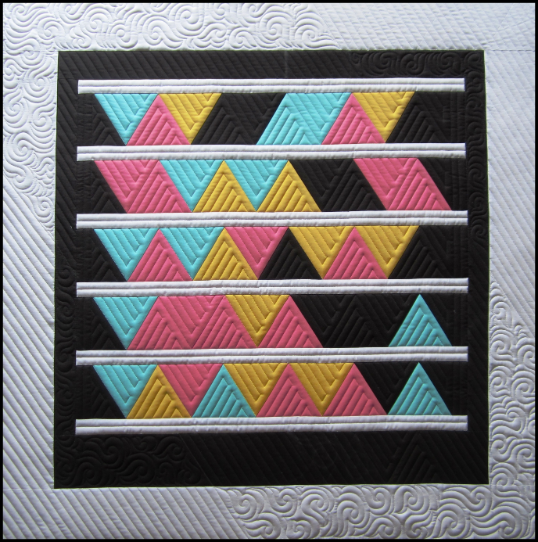 36" x 36" Wall Hanging
Design your own Scannable Quilt!
Create a personal "Tag" barcode online at
www.tag.microsoft.com,
then make an attractive socially interactive quilt
using the computer-generated design.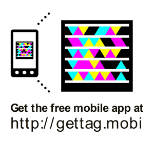 Download the free app, then scan the quilt
with your smart phone to go to its web destination.

Techno-Tag Quilt
Kits & Patterns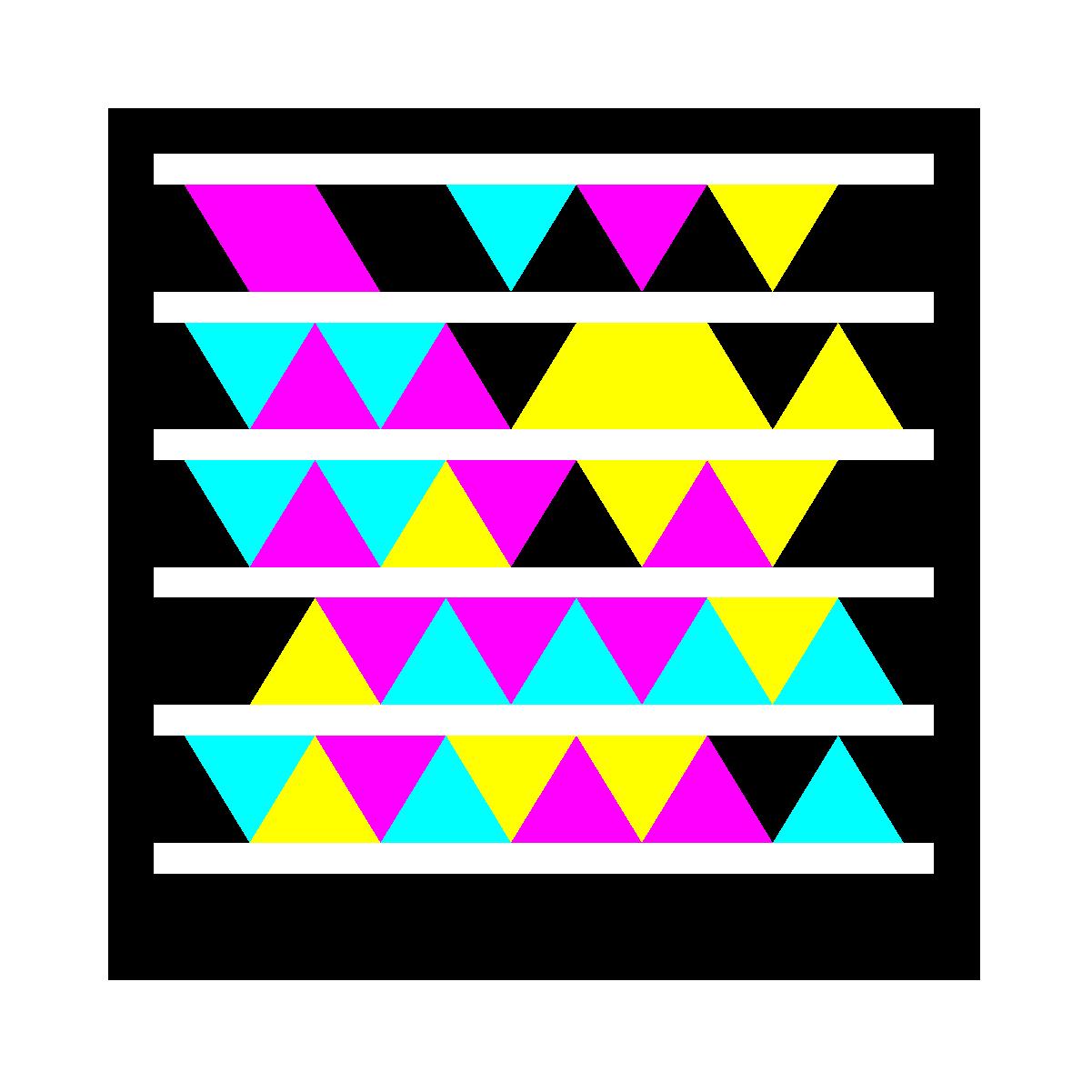 Includes pattern and
fabric for quilt top and binding
$29.50 / kit
FREE PATTERN
included in Fall 2012
QUILT TRENDS MAGAZINE
or purchase pattern separately here:
$10/pattern
$2 /paper-piecing triangle template
Mexican Star Pattern by Annette Ornelas
Mexican Star Pattern
by Annette Ornelas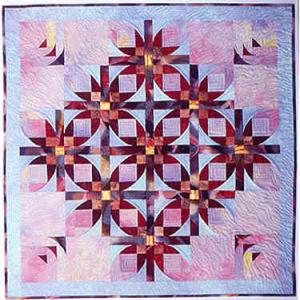 39" x 39" Wall Hanging
This stunning quilt features simple strip piecing and a unique method of dimensional patchwork.
NEW !!
Mexican Star Dance - Large Quilt Pattern by Annette Ornelas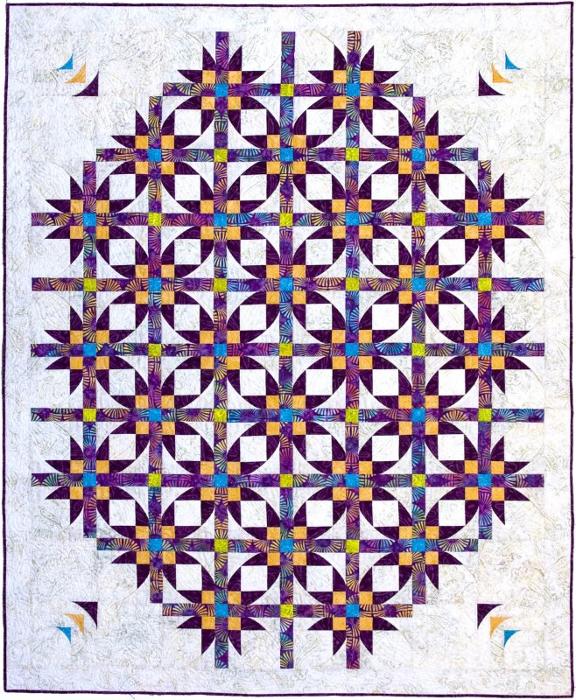 65" x 80" or 80" x 80"

Love the wall hanging? Now you can make a larger version of the Mexican Star
Mexican Star Dance
Pattern
by Annette Ornelas
Price: $12/ each

Lolly's Stars Quilt and Bedroom Ensemble
62" x 72" Lap Quilt with Pillowcase,
Decorative Pillow & Laundry Bag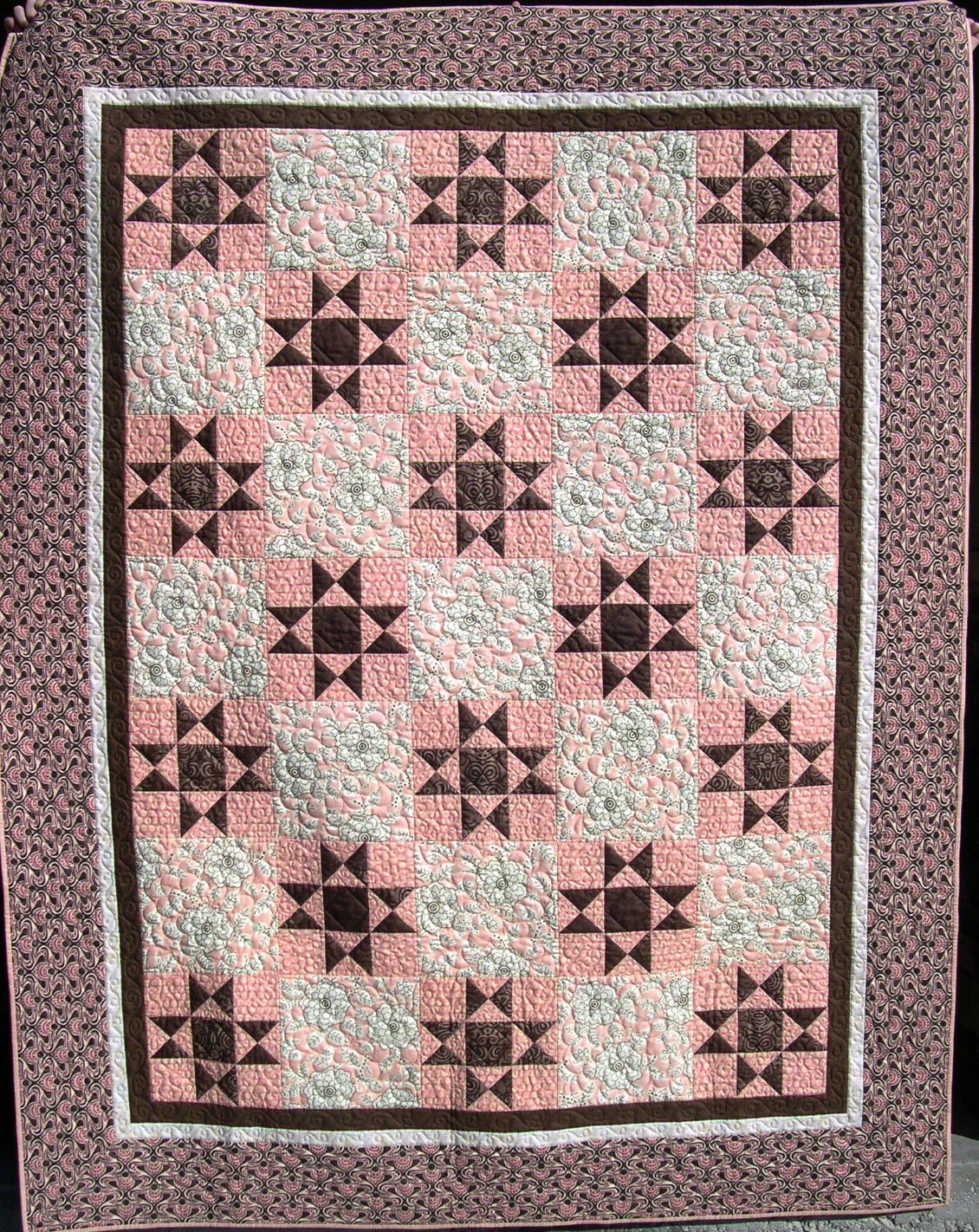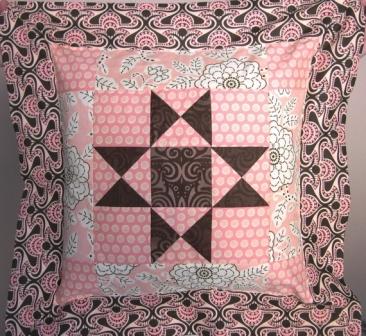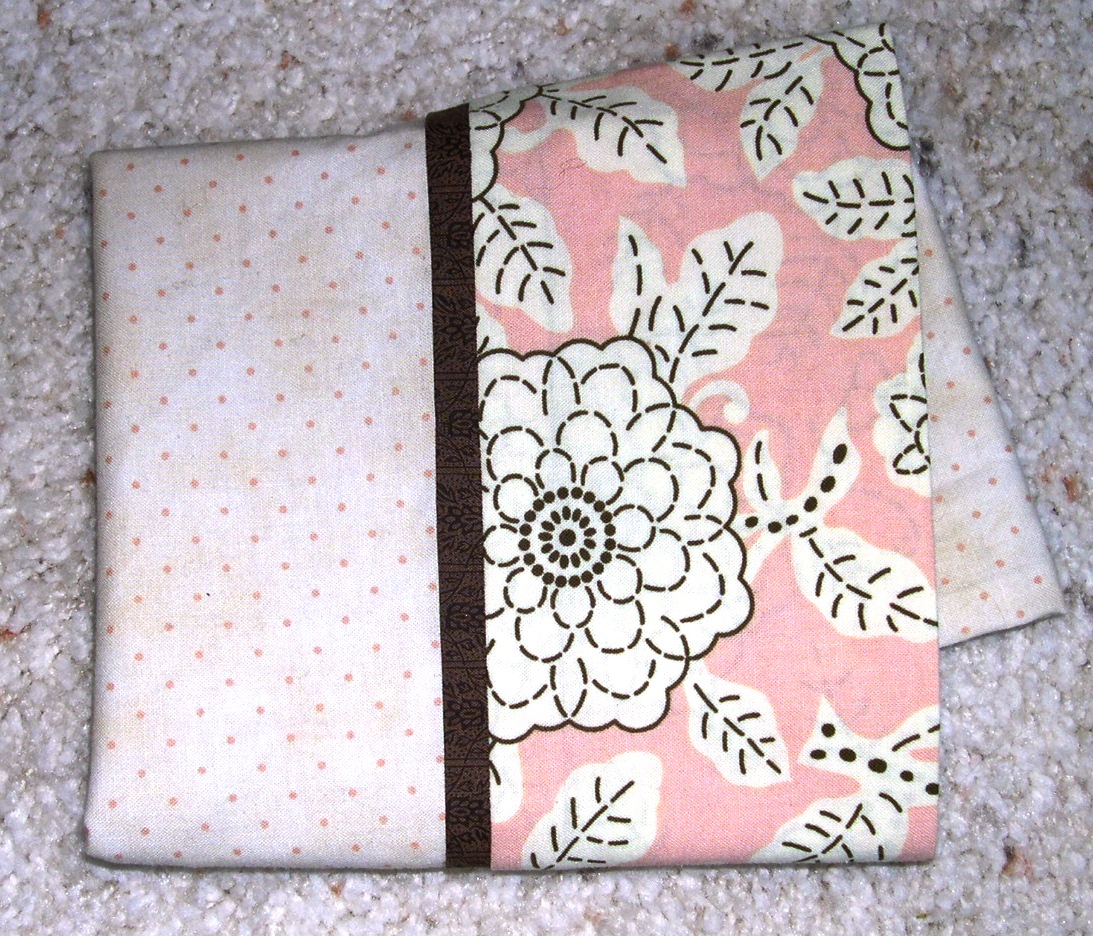 Make this pretty Ohio Star quilt and matching bedroom ensemble in no time using some fun speed-piecing techniques you will love.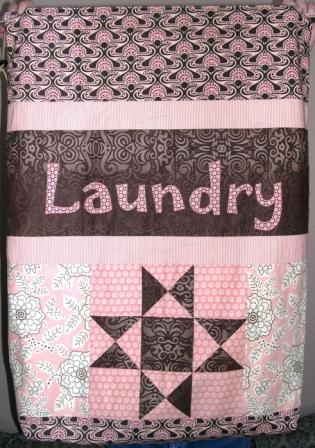 Pattern includes instructions for Quilt, Pillow, Laundrybag, & Pillowcase

BONUS: "Quick Quarter" ruler included in pattern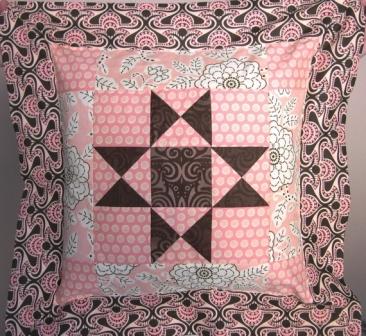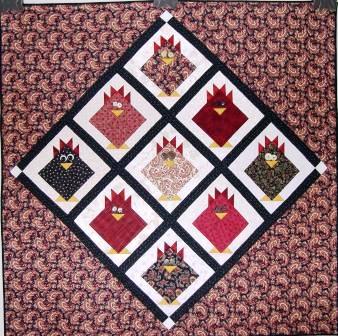 56" x 56" Lap Quilt or Wall Hanging
HEN PARTY CHICKLETS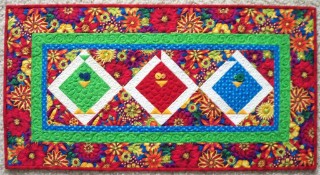 This simply pieced chicken is constructed with stitch-and-flip beak, comb and feet pieces, and is set on point in one of two different layouts. Add large button eyes a little offset to give personality to your whimsical chicks.
Bonus pattern:
HOO-VILLE CHICK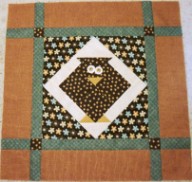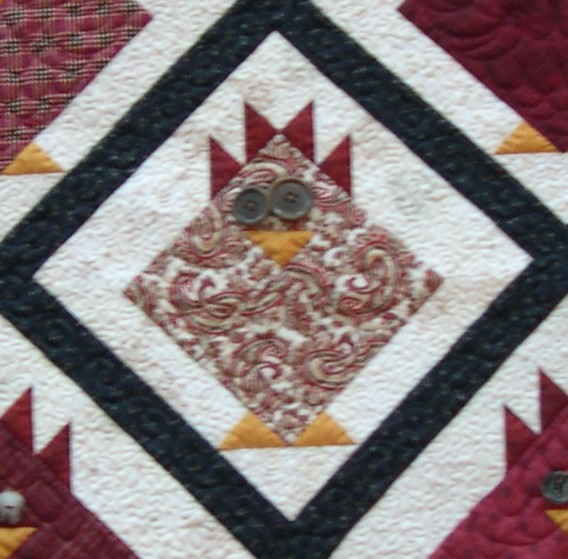 Hen Party Chicklets
Pattern
$6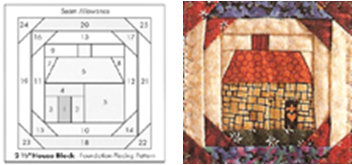 Foundation Paper Piecing is a creative quilting technique to achieve accurate, detailed shapes in your quilting. Open up a whole new world as you learn easy-to-remember "footsteps" of paper-piecing that will make you successful with this popular technique. Construct one block in class using the pattern supplied, or bring any pattern of your choice.
The sky is the limit!
"Finishing School" Finish Your Quilt ~
It is the finishing touches that can really make your quilt fantastic. This class will take your quilt through each area of finishing: Quilt design, layout, setting, sashing, and border treatments including mitered borders. Class wraps up with a binding workshop.